In this article we look at the Raspberry Pi 400 – I'm putting this in the SBC category as I think it meets all the criteria.
The Raspberry Pi 400 is a complete Raspberry Pi 4-based personal computer which is fully integrated into a keyboard for ease of use.
The hardware features a quad-core 64-bit processor, wireless networking, dual-display output and 4K video playback iwhich makes it  ideal for surfing the web, creating and editing documents, watching videos, and learning to program using the Raspberry Pi OS desktop environment.
We will now take a look at the specifications of the hardware
Specifications
Lets take a look at those specifications of the Pi 400
Processor: Broadcom BCM2711 quad-core Cortex-A72 (ARM v8) 64-bit SoC running at 1.8GHz
RAM: 4GB LPDDR4-3200
Connectivity:

Dual-band (2.4GHz and 5.0GHz) IEEE 802.11b/g/n/ac
Wireless LAN, Bluetooth 5.0, BLE
Gigabit Ethernet
2 × USB 3.0 and 1 × USB 2.0 ports

GPIO: Horizontal 40-pin GPIO header
Video & sound: 2 × micro HDMI ports (supports up to 4Kp60)
Multimedia:

H.265 (4Kp60 decode) / H.264 (1080p60 decode, 1080p30 encode)
OpenGL ES 3.0 graphics

SD card support: MicroSD card slot for your operating system and storage needs
Keyboard: 78- or 79-key compact keyboard (depending on the regional variant)
Power: 5V DC which is supplied via a USB-C connector
Security: Security lock port
Cooling: Internal heatsink plate and also vents under the keyboard
Operating temperature: 0°C to +50°C
Options
Now there are 2 basic options available, you can buy the basic Pi 400 or a kit which includes everything you need to get you started. Some 3rd party companies may throw in extras but this was the release options.
Option 1
This is the basic Pi 400 which comes in at about the £69 mark. If you buy this option you will need to supply your own power supply rated at 5v that can deliver about 3A, hdmi cable and you will need an sd card with your own OS of choice installed on it.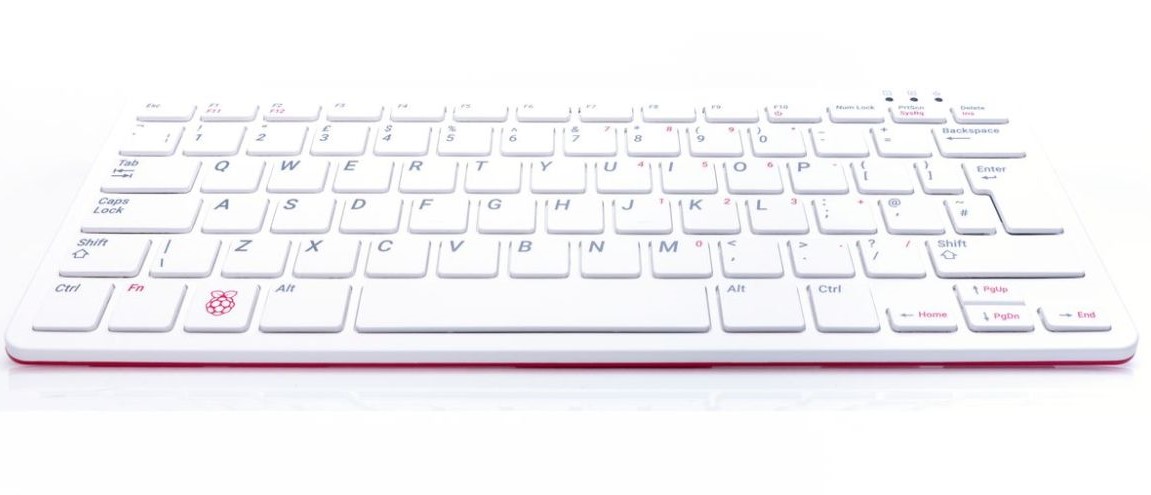 The image above shows you what you will get with this option – if you already have a PSU, hdmi cable and already have an OS ready to go this is a perfectly suitable option for you otherwise you may want to look at the following option.
Option 2
The second option is to purchase a complete kit with everything you need, in this kit you will get the following
Raspberry Pi 400
Raspberry Pi Official USB-C Power Supply
Raspberry Pi Official Mouse
1 metre micro HDMI to HDMI Cable
16GB pre-loaded micro-SD card
Raspberry Pi Beginners Guide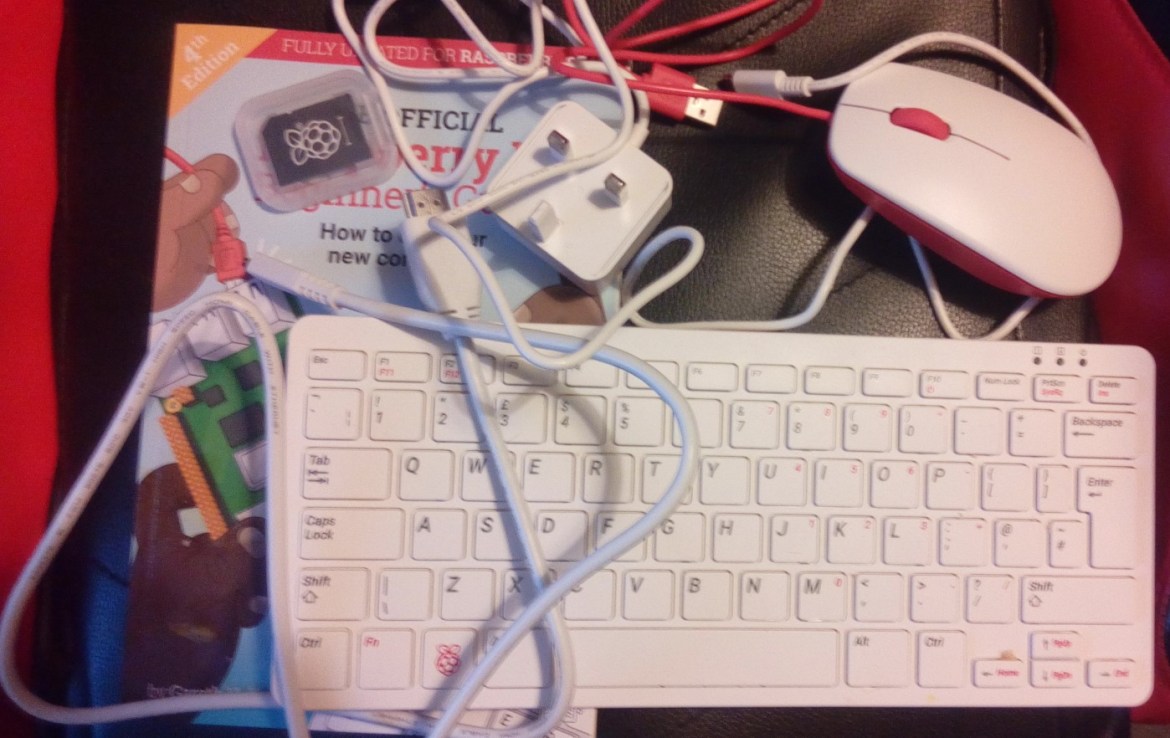 This was the option I bought – this was priced at roughly £94. So for an extra £25 you get a suitable 5v rated USB C PSU, mouse, a 1 metre long hdmi cable, a 16Gb sd card with the OS already installed on it and a substantial 200+ page manual with plenty of content for beginners to get started with. This is a great option.
Setup
Basically you insert the supplied SD card into the slot, plug the USB type c plug in and connect the mouse to one of the rear USB ports (2 are USB 3, 1 is USB 2 – so take your pick) and connect the supplied hdmi cable up to your display of choice.
Power it on and once booted there are a few default options to go through such as setting your locale and checking for updates. This may take some time to update depending on how many updates there are and your wi-fi connection.
You can use a wired network connection if you want as there is a network port on the rear of  the device.
After that you are ready to go and investigate your Pi 400
Analysis
Despite what the naming the Pi 400 does not contain a Raspberry PI 4b or any existing Pi board. In fact its a custom made board especially for this product
One thing that was interesting is the Pi 400 has a slightly faster processor than the Raspberry Pi 4b – the Pi 400 runs at 1.8Ghz and the Pi 4B runs at 1.5Ghz, obviously not factoring into any overclocking.
Another interesting feature is that the Pi 400 seems to run cooler and has built in cooling by default whereas the Raspberry Pi 4B you most definitely need a heat sink or fan to be fitted – in my test it appeared to be about 10 degrees cooler and that was merely booting the OS and sitting idle and measuring with a basic thermometer but it certainly appears to be better in terms of temperature.
My Pi 4b also had a heatsink – without this the difference would have been even greater than these results.
One of the most pleasing aspects is that the GPIO connector is accessible at the back, if you have looked through this site you will see that I have used many external hats and sensors and these can still be used with this unit which is good. There are also adaptors that can be purchased alllowing multiple devices to be connected
There are 2 USB 3.0 ports and 1 USB 2.0 port available to use – the USB 3.0 means you can quite easily connect an external SSD to the keyboard
The device also supports Bluetooth 5.0 and also dual-band 802.11 b/g/n/ac wireless LAN – the bluetooth option may come in handy if you want to pair a bluetooth device such as a mouse if you had one available as the supplied one does have quite a short cable.
It should be noted that there is no DSI, CSI or 3.5mm audio or video jacks. So if you use these or need to use these they are not available.
Purchase
Final take
This seems to be aimed at beginners and STEM and because of this it is  a fine piece of kit for under £100. If you want to get your kids into programming such as python, scratch or basic electronics then this is perfect – you may also want to get started as well.
There are of course many programs installed by default and many more can be added although you may need a larger SD card – these are not expensive.
As I stated for retro gaming then once again this is a solid choice – throw a joypad/joystick in and its a perfectly functional setup that would deal with most of the lower end emulators such as NES, SNES, GBA, GBC and probably N64 and PSP.
I'm interested to see if they bring out an 8Gb version as well.
I'm not convinced its a full desktop computer replacement, browsing can be a bit slow and watching youtube videos can be glitchy as well depending on the video settings but this is not taking into consideration 2 things – the price of this and the specs of my PC which when you get used to blindly fast performance then its obvious when things run slower.
I would say this is well worth an investment – if you've never bought a Raspberry Pi before then start with this and there is an abundance of information online including this site, hopefully which can keep you interested and find plenty of things to do.