In this article we will look at the Raspberry Pi Zero 2 W and its various features, first an image of the board in question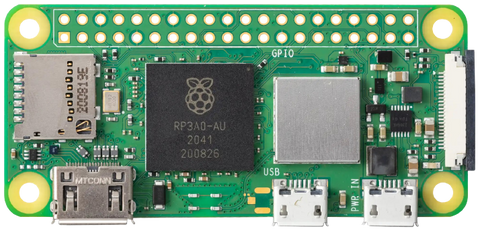 First lets look at some of the specifications
Processor :  64-bit ARM BCM2710A1 Cortex-A53 CPU with a 1GHz quad-core
Graphics : 500 MHz VideoCore VI
Memory : 512mB
Ports : Mini HDMI and USB 2.0 OTG ports
Micro USB power
MicroSD slot
802.11b/g/n wireless LAN
Standard 40 pin GPIO connector
Bluetooth 4.2 / Bluetooth Low Energy (BLE)
Interfaces : CSI (camera)
Composite video and reset pins are available via solder test points
Price : about £15
Processor
The processor is a quad core 1.5GHz Cortex-72. This processor has about 40% more single-threaded performance, and five times more multi-threaded performance, than the original single-core Raspberry Pi Zero. It can be overclocked to 1.2Ghz.
This board has three more cores that the original Pi Zero
Graphics
The graphics chip is a 500 MHz VideoCore VI.
I had no luck playing any Youtube videos at 1080p and even 720p – I do not think this board is suitable for that function but of course may be wrong.
Memory
Unlike the Raspberry Pi 4 which has 4 memory options the Pi Zero 2 W only comes with 512mB. Something that you need to factor in when you choosing a board for whatever function you need it for.
Using this as a desktop replacement may be out of the question here.
Connectivity
You get Bluetooth 4.2 and BLE as options and there is also support for WiFi connectivity via the 802.11b/g/n wireless LAN, this is an advantage over the very first Pi Zero which had no connectivity out of the box.
Its also a slight upgrade from 4.1 to 4.2 on the Pi Zero W
Ports
You get 1 Mini HDMI  port
You get 2 USB ports, one of these is for a USB 2.0 OTG ports and the other i sised for powering the board.
The GPIO port is backwards compatible with previous models which is all important for me with all of the hats that I already have.
It has a MIPI CSI camera interface so your existing Raspberry Pi camera should work just fine with an adaptor
Comparison table
Lets see all that in table – differences in bold
Specs
Raspberry Pi Zero W
Raspberry Pi Zero 2 W
SoC/SiP
Broadcom BCM2835
Raspberry Pi RP3A0 with Broadcom BCM2710A1
GPU
VideoCore IV
VideoCore IV
CPU
Single-core Arm11 @ 1 GHz
Quad-core Cortex-A53 @ 1 GHz (overclockable to 1.2 GHz)
Memory
512MB DDR2
512MB DDR2
Storage
MicroSD card
MicroSD card
Video/Audio Output
Mini HDMI
Mini HDMI
Camera
MIPI CSI-2 camera connector
MIPI CSI-2 camera connector
Video
Decoding – H.264 and MPEG-4 up to 1080p30
Decoding – H.264 and MPEG-4 up to 1080p30
Encoding – H.264 up to 1080p30
Encoding – H.264 up to 1080p30
Connectivity
802.11 b/g/n WiFi 4, Bluetooth 4.1 LE
802.11 b/g/n WiFi 4, Bluetooth 4.2 LE
USB
Micro USB OTG port
Micro USB OTG port
Expansion
40-pin GPIO header
40-pin GPIO header
Power Requirements
5V/1.2A
5V/2.5A
Dimensions
65 x 30 x 13 mm
65 x 30 x 13 mm
Purchase
Summary
Positives
A more powerful Zero base board which is ideal for small projects like basic retro gaming handhelds such as GBA, GBC or DS. IoT projects and
The board has the same form factor as previous Pi Zero boards so your existing case should fit just fine.
Negatives
Memory is limited to 512mB and desktop applications may struggle to run fluidly.
No GPIO header fitted
You may need a heatsink on the CPU as it can run 20 degress warmer than the previous board – you may not have needed this with previous boards